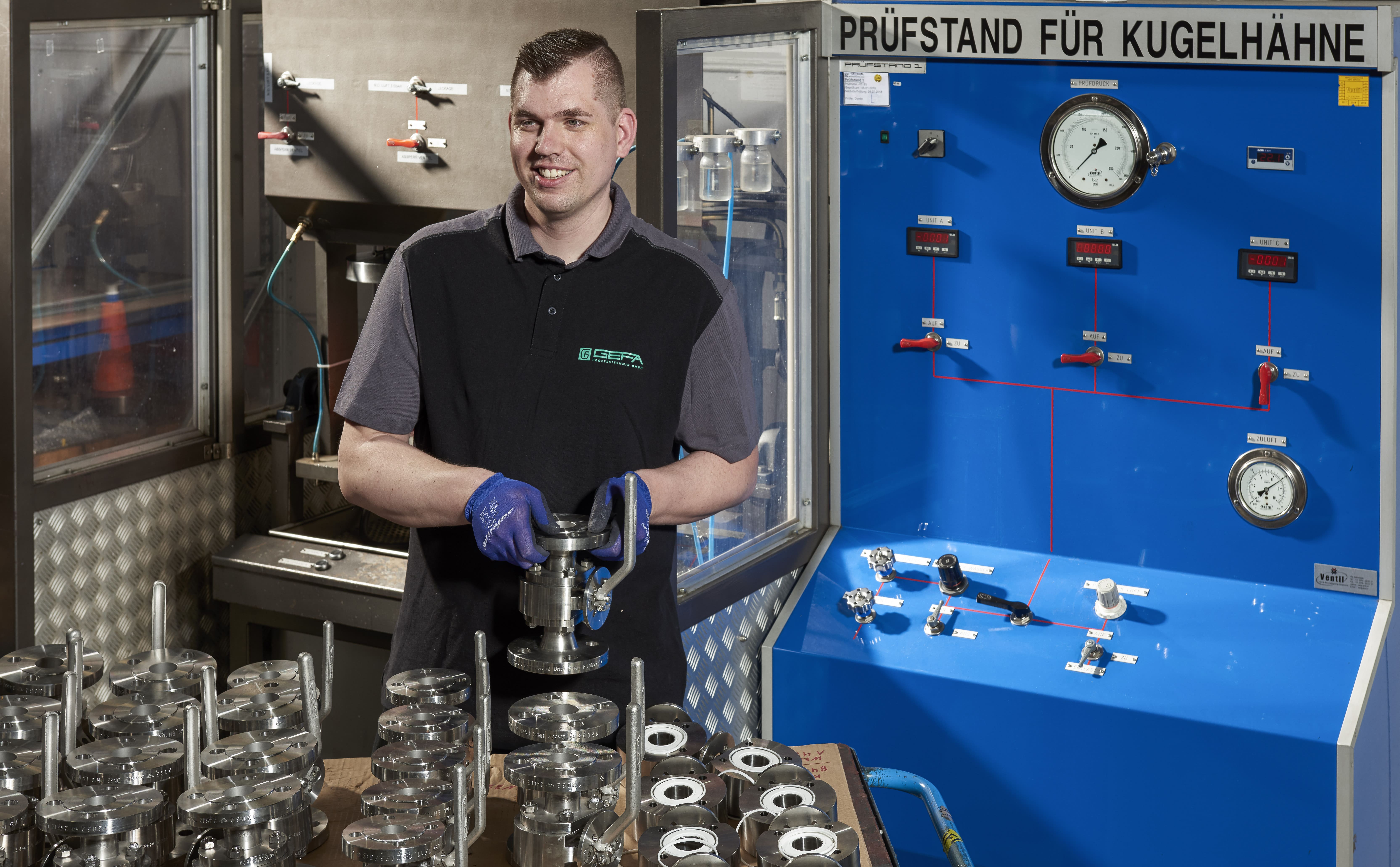 Your contact for worldwide service operations on individual valves and components.
Our qualified technicians with many years of service experience are available to you as contacts for worldwide service operations. We are at your side on site or in our service center and repair, maintain and renew the components of your plant. We are always there for you when you need us!
Service center maintenance
At GEFA Processtechnik, qualified and experienced specialists are available in our in-house service center for fast, cost-effective and comprehensive repairs of your valves. After we have received your defective valve or the valve to be reworked, we will send you a detailed report with specific suggestions for repair and optimization. If you wish, we can also adapt your valves to the latest state of the art. Our many years of experience and our manufacturer know-how guarantee you the highest level of safety and maximum quality in all our services. In addition, we offer you a new value guarantee on all repairs so that you can always rely on the performance of your equipment.
On-site inspection service and revision management
As an experienced partner for industrial valves and filtration technology, we at GEFA Processtechnik also offer you comprehensive on-site service - fast, reliable and around the clock. We take over the organization of the service completely from one source - if you wish also at a fixed price.
Our standard overhaul service includes everything you need: from manpower and logistics to tools and special fixtures to the provision of standard wear parts as well as seals and packings. With us, you always have a direct contact person and thus benefit from a low coordination effort. Our many years of experience and manufacturer know-how guarantee you maximum reliability in all our services. At the same time, we are flexible even in the case of personnel adjustments required at short notice, in order to meet your requirements in the best possible way. Our stock of spare parts completely eliminates long waiting times for you!
International service
As a globally active company, we offer you worldwide service operations that are coordinated centrally from our company. Even if your plant is not located in Germany, you can rely on our qualitative and reliable service.
Talk to your GEFA contact about our services or contact the GEFA service team directly.
GEFA-Serviceteam
Our service operations are planned and coordinated by expert employees on site in Dortmund. We draw on the expertise of highly qualified service technicians who have many years of experience in the field of industrial valves and filtration technology and therefore have excellent knowledge of a wide range of industries. Our technicians are also qualified to carry out service assignments in particularly secure facilities, such as nuclear power plants, as they have the necessary certifications, such as radiation passports. This allows us to offer you comprehensive service from a single source.
Our service flyer
GEFA SERVICE TEAM (GB) (2.21 MB)
Service media library
Sustainable seat ring replacement of the two-piece butterfly valve: