Auslegungsprogramm für Berstscheiben:
                                                                              https://www.zookdisk.com/z-size/                   
Z-VAC / Z-POS
Zweiwege-Niederdruckberstscheibe zur Über- und- Unterdruckentlastung

Die Z-VAC Berstscheibe wurde speziell für Anwendungen entwickelt, die sowohl Schutz vor Überdruck, als auch vor Vakuum benötigen. Z-VAC Berstscheiben entlasten extrem niedrige Drücke in Vakuumrichtung (ab 2,5mbar). Die Z-POS Berstscheibe arbeitet nach dem gleichen Prinzip, entlastet jedoch ausschließlich niedrige Drücke in Überdruckrichtung.

Beide Ausführungen bestehen aus einer perforierten metallischen Membrane, einer Fluorpolymer-Dichtfolie und einem Kontrollbügel aus Fluorpolymer oder Edelstahl.

Die Z-VAC kann bis zu 90% des minimalen Ansprechdruckes in Vakuumrichtung und 80% des positiven Nennansprechdrucks belastet werden, die Z-POS bis zu 50% des minimalen Berstdruckes in Überdruckrichtung. Beide Ausführungen werden in gesonderte Berstscheibenhalter für Standardflansche eingesetzt.
Nennweite von DN 50 (2") bis DN 300 (12")
Bersttoleranz Z-VAC in Überdruckrichtung +/-5% (unter 2,7bar-ü +/- 0,14bar), in Unterdruckrichtung +/- 7,5mbar
Bersttoleranz Z-POS +/- 7,5mbar
Max. Temperaturbereich bis 260°C
Optional integrierter Berstsignalgeber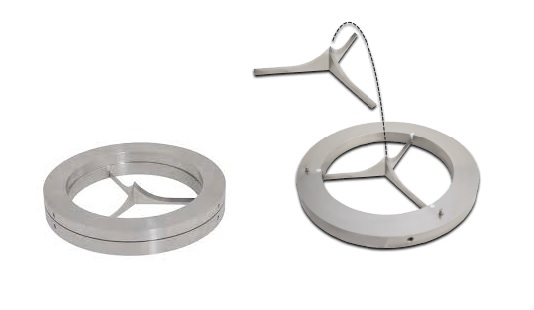 ...want a consultation?
We would be pleased to advise you on our products and services.